When I got home today the roomba had failed to make it back to it's charging dock. When I went to look for it I found a couple things conspicuously not where I left them: a pot holder was on the floor (Talore normally doesn't jump on the counters in my kitchen) and the laundry basket was on it's side and mostly emptied. The roomba was stopped near the laundry basket, but didn't have anything jamming it and had no obvious reason for it to be stopped. I'm guessing that Talore was trying to walk on the side of the laundry basket to evade the roomba, tipped the basket over, and pushed the button that stops the roomba, but I have no way of knowing if that's actually what happened. The roomba also had collected very little in general, but there was far more cat hair on one of the sweeper brushes than I've seen there before and I cleaned that last night.
Over the weekend I attempted to keep Talore from sleeping all day like she seems to do while I'm at work in the hopes that it would cause her to sleep later and not wake me up. I was reading Cryptonomicon most of Saturday and every time it looked like Talore had fallen asleep on my desk I would get up and either pet her till she was awake or sit back down with her in my lap where I could pet her. She got a little sleep in her window seat, but for whatever reason she didn't sleep there for long.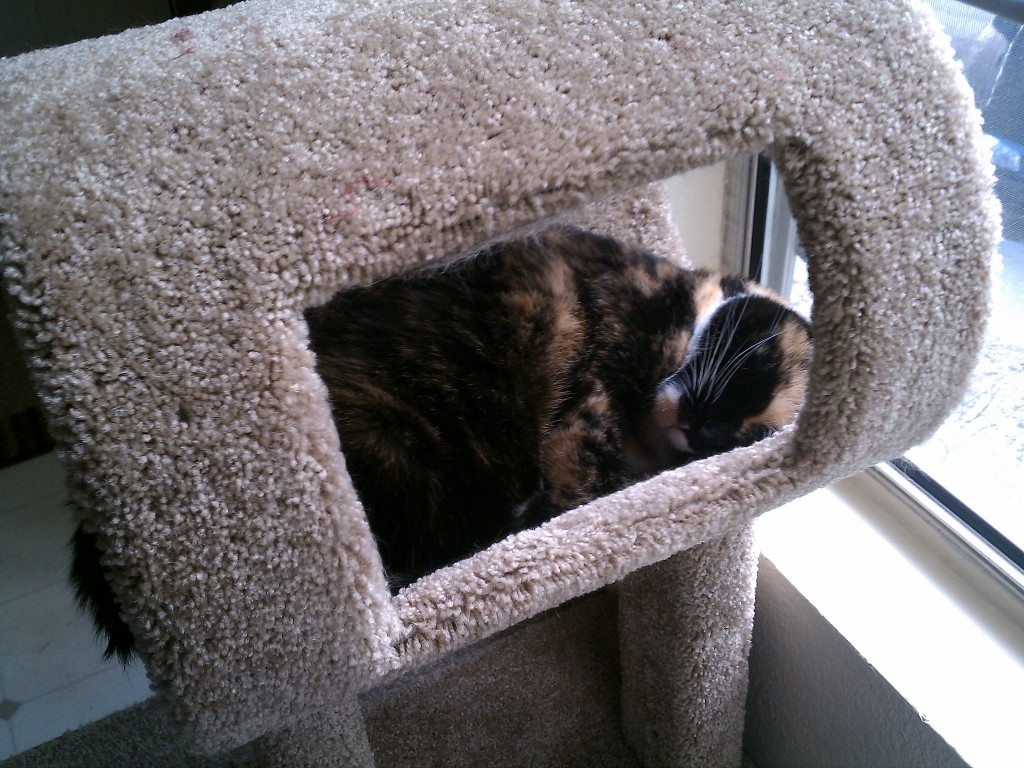 She still woke me up Sunday morning, but it was by walking across me to get back to the bookshelf that she sleeps on instead of meowing at me. I tried to continue keeping her awake Sunday afternoon, but she woke me up this morning in a mood to attack stuff. I think that was because she was hungry (her food bowl was empty), so I may start filling it at night instead of in the morning.
I've been planning to get a water pistol to shoot at Talore when she claws at the cushions on my furniture since just telling her "No" and glaring at her doesn't stop her for long, but I couldn't find one at wal mart today. Over the weekend I got a cup of water to flick at her when she starts clawing things. The first thing she did was drink a noticeable amount out of the cup, then go to sleep next to it. Apparently it's convenient for Talore to have a cup of water on my desk since over a fourth of the cup has been emptied by her. The first time I managed to hit her with water she leaped three or four feet from the couch. The next time I tried she watched me flailing trying to fling water that far from the chair I was reading in for several seconds before I managed to hit her, but she did leave the sofa.
Talore has been playing with the feathery toy by herself (tossing it in the air and dragging it around), but she didn't at all appreciate it when she somehow managed to tie the thread the toy is attached to around her tail. She got up to leave it and it followed her, which prompted another attack on it, but the next time she tried to run from it. She also tied her back legs together with the thread some time later and didn't appreciate me rolling her on her back so I could untie her.
I discovered I had one of those large plastic bubbles of air that they use for packing flat things in boxes, so I thought I'd see if I could get Talore to pop it. She poked a few holes in it, but it's probably a good thing that she didn't actually burst it because when I did so she ran and hid under my bed for a while.